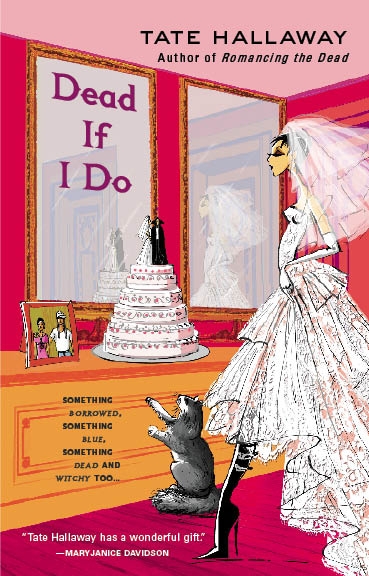 One of my favorite authors has been interviewed at
Bitten By Books
today!
Tate Hallaway!
Tate's newest release Dead If I Do came out this month and I really want this book. At the moment I got to try to win it,because my budget is horrible right now.
Here's a little bit about Dead If I Do:
I've finally found Mr. Right. Sure, he might not have a pulse, but coming from a girl who's sharing a body with a short tempered goddess, I'm not one to judge. Sebastian is the vampire of my dreams and I'm dying to walk down the aisle. Everything couldn't be more perfect.
Well, except for the fact that the awesome band I hired for the reception has been replaced by some guy with an accordion and lederhosen. And the bridesmaids' dresses somehow got switched to salmon pink taffeta with butt-bows. And that's not even mentioning the fact that Sebastian's ex-lover, the zombie-slash-vampire-slash-witch who just happens to be the mother of his undead son, wants the both of us six feet under. Now I know why some girls turn into Bridezilla...
Now go to Bitten By Books and get your name in the contest too!