I guess all cartoonists, at least the ones I've read about, say that they can't remember a time when they didn't draw. I wish I could say something a little more original, but that really is the case. There were always cartoons in my life, since before I knew how to write. My family were devout readers of Bill Watterson's brilliant Calvin & Hobbes, I was always encouraged to be creative, and, most importantly, my older sister draws. She was, and still is, ten times better than myself, which always spurred me on and taught me how to improve myself.My comic strip is called Snap Crackle Pop and it is, though it seems egocentric, about myself. They say all writers make a character that resembles them, so why beat around the bush? My father always said my work was funniest when I just wrote what I knew about. Snap Crackle Pop is a cartoon about myself, and within this cartoon, I draw a cartoon about myself. It's set in a ridiculous sort of world where inanimate objects talk, a goldfish is a zen counselor, a flying pig arrives to scold me out of having a love life, and a little slithery dragon appoints himself my personal bad influence. I invent the perfect male but reject him twice out of commitment phobia, get spied on by Dick Cheney, harassed by giant spiders, and plagued by dozens of inner demons. And all those things are true, too.I update my comic every Wednesday, and you can find it at my website, http://www.kit-fox.com/. The site is brand new, so there are still comics to be added to it, but the rest you can find at my Deviant Art site here: http://elephantblue.deviantart.com/I hope you enjoy reading!
-Kit
www.kit-fox.com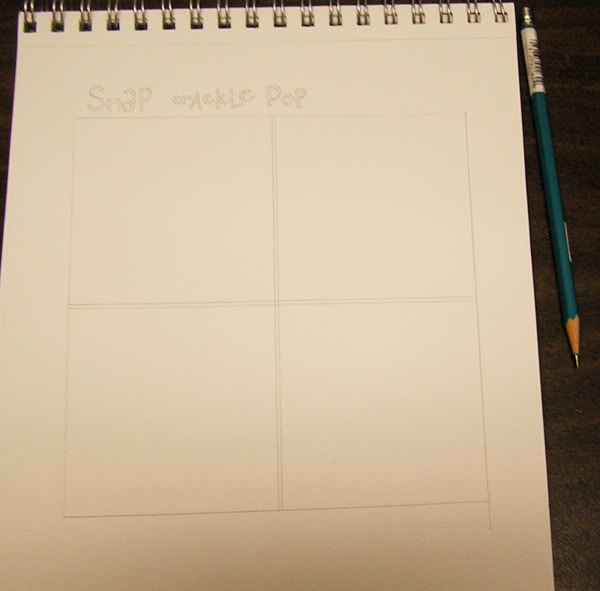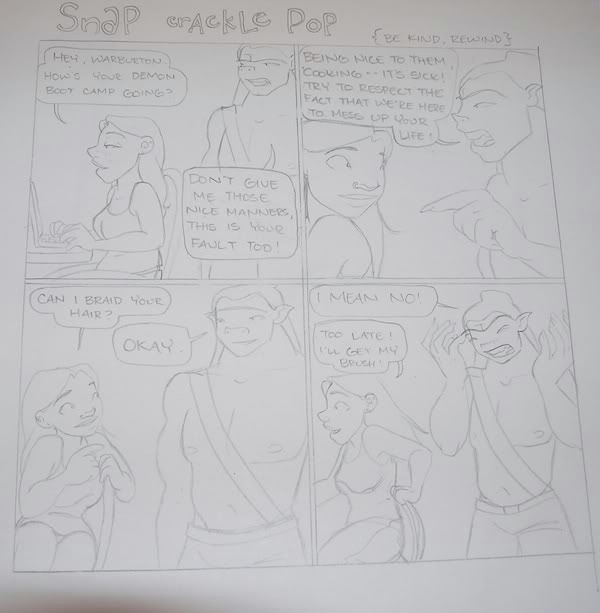 This is the photo of the first step I take in making a cartoon, the basic frame.
2nd Step-This is the sketch of the strip, all done in pencil.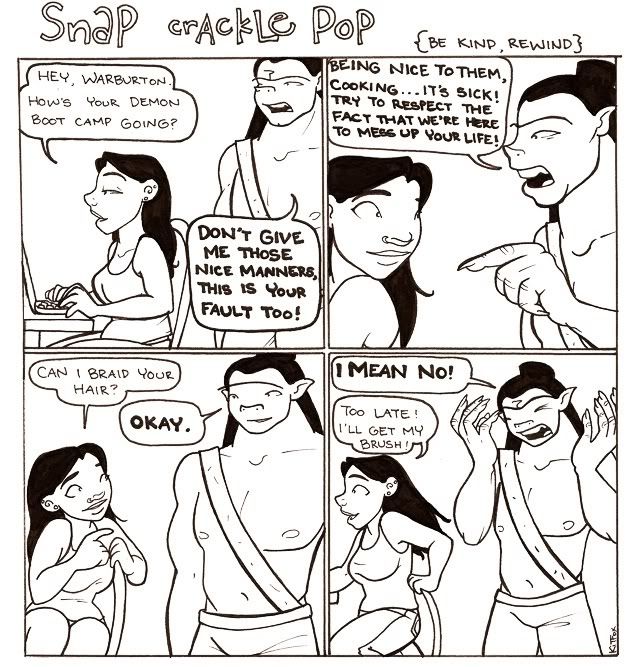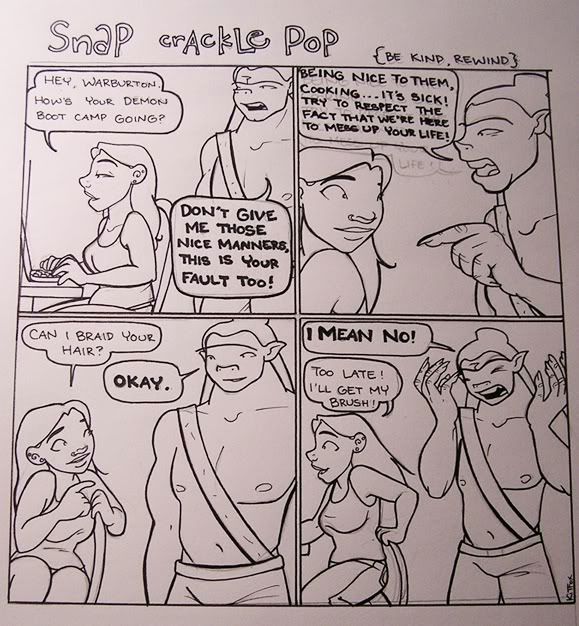 3rd Step-After the pencil, I ink it with black Micron pens to get all my lines exactly how I want them.
4th Step-This is what it looks like when it's all done, the pencil marks erased, the larger black areas shaded in, and whatever mistakes I made while inking cleared up.
Extra!Extra!Kit will be here to answer questions and comments.
A lucky commenter today will win a a signed copy of this drawing from Kit.
(Date change for drawing,I'll pick a winner Monday Mar.24th)