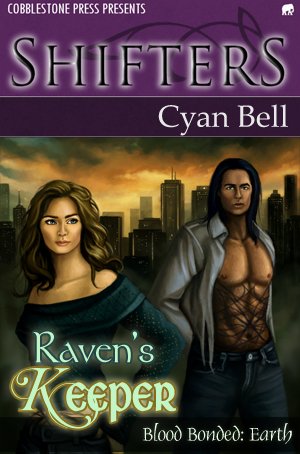 Raven's Keeper by Cyan Bell ( eBook Available now at Cobblestone Press )
In one moment Raven St Michaels' true destiny as a Dragon will be unleashed by an enigmatic stranger. Dante Ferris discovers his Blood Bonded by pure coincidence. His elation is short lived. Struck by a merciless demon; his soul is taken to Hades to be used to rule mankind.
Between Angelic visitations, demonic threats and the insatiable carnal hunger they share, Dante and Raven must find a way to seal the Blood Bond between them, have the courage to surrender their deepest fears and fight forces too powerful for one of them alone to endure.


White Lightning
by Cyan Bell
For three thousand years a war has raged between two vampire houses bound by blood. Now the war will end with a human becoming the leader of a vampire nation.
Ryan Matthews and Taylor Daniels shared every summer together and a single kiss before they were pulled apart. This summer they'll meet again, but they've both changed. Now, Ryan and Taylor each have their own explosive secrets. The kind that could change their lives and the way they feel for each other dramatically.
With the humid heat of Queensland's brutal summer pressing down on them, Taylor and Ryan indulge in the irresistible attraction between the two of them while the threat of a rival vampire's uncompromising rage looms.