Which Psy-Changeling Hero Is For You?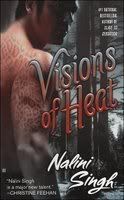 Your Psy/Changeling Hero: Vaughn
Protective, possessive and sensual to the core, Vaughn is a sentinel with the heart of a jaguar. If he decides to make you his, there's no getting away. So run...or get ready to tangle with the wild fury of a changeling who is more animal than most.Find out more about Vaughn and the series at http://www.nalinisingh.com/
Take this quiz!





Quizilla
Join
Make A Quiz
More Quizzes
Grab Code
Nalini Singh has started a blog contest to promote her upcoming release
Caressed By Ice
. To join in on the fun, take the quiz above and post it on your blog,then head over to
Nalini's blog
and comment that you blogged and where you blogged at. Fun and simple! Visit Nalini for addition information. Go now and spread the word
J